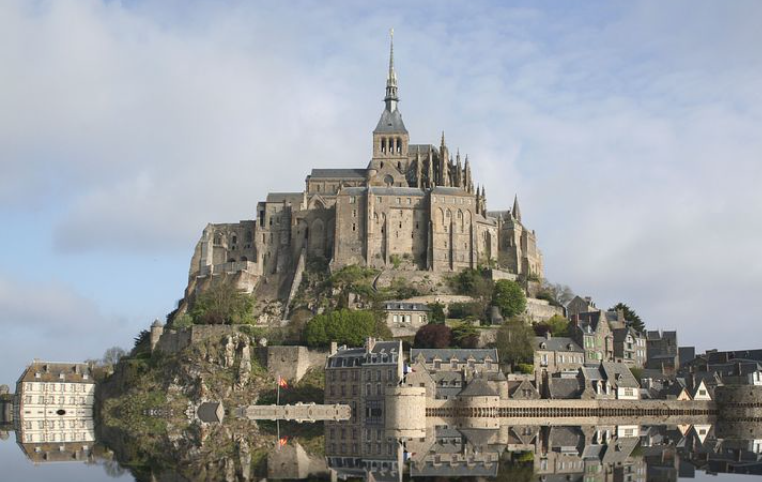 Paris • Chartres • Rouen • Caen • Normandy • Bayeux
---
11 Days - Our prices include airfare from your home town and exclusively 4 or 5 star hotels everywhere
Scroll down to view the itinerary; click on the trip date to book your trip online.
Trips in 2020 - $4,599.00
Trip Includes
A Catholic priest will be with the group to celebrate daily Mass.
Round-trip airfare from your hometown connecting in a major city to fly overseas is included.
Airport Taxes, Security Fees, and Fuel Surcharges!
Exclusively 4 or 5 star hotels in downtown areas.
All breakfasts and all dinners. Wine is included with all dinners.
Transportation with luxury bus.
All entrance fees to all the sites.
All tips to everyone involved in the tour.
The tour fees for our guides. Our tour guides are well educated, caring, and professional. Most of them have their PhD's in Church history, archeology, philosophy, languages, or Theology.
Luggage handling. Please pack light, one piece of luggage and one carry-on.
Dress casually throughout the whole trip. Shoulders and knees should be covered when visiting Basilicas or churches.
If you are traveling alone and you allow us to find you a roommate, you don't pay the $1,200 single supplement. If you wish to have your own room and you are not open to rooming with another passenger, then the single supplement fee is $900.
A wheelchair can be provided gratis for those passengers who cannot walk, with prior notice at registration. A traveling companion has to push the wheelchair throughout the trip.
At the time of registration, as a part of the total balance, a non-refundable $500 deposit (hotel and airfare deposit) is due in the form of a credit card. For example, if your trip costs $3,700, when you sign up, you pay a $500 deposit, then your balance would be $3,200 and is due 4 months before departure date. If you sign up after the final payment due date or at the last minute, you pay the entire cost of the trip at registration.
Trip Does Not Include
Lunch
Insurance ~ The total trip cost is non-refundable, we recommend trip insurance to protect your investment.
---
Trip Itinerary
September 29: Departure from USA.
September 30: Arrival. Tour the city by bus. See the beautiful sites of the Hotel des Invalides, the Eiffel Tower, Champs-Elysees, Arc de Triomphe. Dinner and overnight in Paris.
October 1: Visit the Sainte Chapelle with its marvelous windows. Spend time in prayer. Tour the Chapel of Our Lady of the Miraculous Medal and spend some time in prayer. Dinner and overnight in Paris.
October 2: Visit the Louvre to see the Mona Lisa and the winged victory Nike. After lunch, visit the Basilica of Sacre Coeur and St. Denis Basilica where King Louis IX is buried. spend time in prayer. See the artists along Montmartre. Dinner and overnight in Paris.
October 3: Tour of Chartres with its Gothic Cathedral and spend time in prayer. The majority of the original stained glass windows survive intact, while the architecture has seen only minor changes since the early 13th century attracting a large numbers of Christian pilgrims, many of whom come to venerate its famous relic, the Sancta Camisa, said to be the tunic worn by the Virgin Mary at Christ's. Tour the beautiful Castle of Versailles. This was the principal royal residence of France from 1682, under Louis XIV, until the start of the French Revolution in 1789, under Louis XVI. The palace is now a Monument historique and UNESCO World Heritage site, notable especially for the ceremonial Hall of Mirrors, the jewel-like Royal Opera Dinner and overnight in Paris.
October 4: Tour of Rouen and related sites of St. Joan of Arc. Visit the Rouen Cathedral, resting place of King Richard the Lion-Hearted and Duke Rollo (Viking ancestor of William the Conqueror and blood relative to all sitting crowned heads of Europe). Dinner and overnight in Caen.
October 5: Tour of Normandy D-Day Beaches and visit the American Cemetery, a World War II cemetery and memorial in Colleville-sur-Mer, Normandy, France, that honors American troops who died in Europe during World War II. It is located on the former battlefield cemetery of Saint Laurent, covers 172.5 acres and contains 9,380 burials. A memorial in the cemetery includes maps and details of the Normandy landings and military operations that followed. At the memorial's center is Spirit of American Youth Rising from the Waves, a bronze statue. Dinner and overnight in Caen.
October 6: Tour of Mont St Michel, the island has held strategic fortifications since ancient times and since the 8th century AD has been the seat of the monastery from which it draws its name. Dinner and overnight in Caen.
October 7: Tour of Bayeux, home of the Bayeux Tapestry, which depicts the events leading up to the Norman conquest of England.. Spend time in prayer. Dinner and overnight in Caen.
October 8: On the way to Paris visit all the sites related to St. Therese of the Little Flower and spend time in prayer. Dinner and overnight Paris.
October 9: Departure to USA.
Please note: We do our best to ensure that all sites listed in this itinerary will be seen. However, due to scheduling conflicts, or other circumstances beyond our control, sites may be visited on a different day than listed. If this happens it will also necessitate a change in the restaurant for dinner. However, we will never sacrifice the quality of the meal, all restaurants will meet Pro Catholic Tour's very high standards. Since we have several different trip configurations touring at the same time, it is likely that groups on different tours will be combined when their itineraries overlap in certain areas.