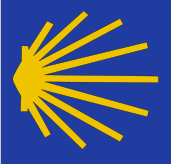 Sarria • Fereiros • Portomarin • Palas de Rei • Melide • Arzua • Arca do Pino • Santiago de Compostela
---
11 days - Our price includes flight from your hometown and exclusively 4 or 5 star hotels everywhere
Scroll down to view the itinerary; click on the trip date to book your trip online.
There are no trip dates scheduled at this time.
Trip Includes
A Catholic priest will be with the group to celebrate daily Mass.
Round-trip airfare from your hometown connecting in a major city to fly overseas is included. If your city has a direct flight to your destination, we will guarantee a direct flight as long as it is available.
Airport Taxes, Security Fees, and Fuel Surcharges!
Exclusively 4 or 5 star hotels in downtown areas.
All breakfasts and all dinners. Wine is included with all dinners.
Transportation with luxury bus.
All entrance fees to all the sites.
All tips to everyone involved in the tour.
The tour fees for our guides. Our tour guides are well educated, caring, and professional. Most of them have their PhD's in Church history, archeology, philosophy, languages, or Theology.
Luggage handling. Please pack light, one piece of luggage and one carry-on.
Dress casually throughout the whole trip. Shoulders and knees should be covered when visiting Basilicas or churches.
We limit our group to a maximum of 24 passengers, unless the priest on the trip requests a larger group. Small groups with a 5 star service in 4/5 star hotels.
If you are traveling alone and you allow us to find you a roommate, you don't pay the $900 single supplement. If you wish to have your own room and you are not open to rooming with another passenger, then the single supplement fee is $900.
Taxi and wheelchair can be provided gratis for those passengers who cannot walk, with prior notice at registration. A traveling companion has to push the wheelchair throughout the trip.
At the time of registration, as a part of the total balance, a non-refundable $500 (hotel and airfare deposit) is due in the form of a credit card. For example, if your trip costs $3,700, when you sign up, you pay a $500 deposit, then your balance would be $3,200 and is due 4 months before departure date. If you sign up after the final payment due date or at the last minute, you pay the entire cost of the trip at registration.
Trip Does Not Include
Lunch
Insurance ~ The total trip cost is non-refundable, we recommend trip insurance to protect your investment.
---
Trip Itinerary
Monday, May 21: Depart USA for your overnight flight to Santiago de Compostela, Spain. Dinner and breakfast will be served on board.
Tuesday, May 22: Upon arrival in Santiago de Compostela you will be met by your tour guide and depart for Sarria; the last point at which a pilgrim can start the journey and still complete the 100 km needed to claim the compostela. Check into the hotel and have a free afternoon. Overnight in Sarria.
Wednesday, May 23: After breakfast depart for Fereiros. Today you will walk 9miles and pass through Barbadelo. Overnight in Fereiros.
Thursday, May 24: After breakfast depart for Portomarin. Today you will walk 9.5 miles. Overnight in Portomarin.
Friday, May 25: After breakfast depart for Palas de Rei. Today you will walk 11.4 miles and pass through Gonzar, Ventas de Naro, and Ligonde. Overnight in Palas de Rei.
Saturday, May 26: After breakfast depart for Melide. Today you will walk 10.4 miles and pass through Casanova and Leboreiro. Overnight in Melide.
Sunday, May 27: After breakfast depart for Arzua. Today you will walk 9.2 miles and pass through Ribadiso da Baixo. Overnight in Arzua.
Monday, May 28: After breakfast depart for Arca do Pino. Today you will walk 12.6 miles and pass through Santa Irene. Overnight in Arca do Pino.
Tuesday, May 29: After breakfast depart for Santiago de Compostela. Today you will walk the final 11.2 miles and pass through Monte do Gozo. Upon arrival check into your hotel and the remainder of the day is at your leisure. Enjoy a stroll on own, though the beautiful streets of Santiago de Compostela, the city of the apostle, full of historical buildings and other attractions (before or after dinner). Overnight in Santiago de Compostela.
Wednesday, May 30: Visit Cathedral of St. James is one of the finest examples of architecture in all of Europe. As pilgrims, we have the opportunity to climb the stairs behind the high altar to visit the crypt where the relics of St. James are preserved, touch the central pillar (Portico de La Gloria), view the 'botafumeiro' and admire the wealth of medieval art inside the Cathedral. Attend the noon mass at the Cathedral. Afternoon at leisure. Overnight in Santiago de Compostela.
Thursday, May 31: Depart for airport and your return flight home. Arrive U.S. same day.